This short clip shows excerpts of the seminar on Wing Chun Kuen conducted by Sifu NG Chun-hong in London, 1998.
¡@
This footage shows Sifu NG Chun-hong teaching Wing Chun Kung-fu at his present school in Hong Kong in February 2001.
¡@
This is the first time showing of footage of the quarterly assessment on the use of Huen, Kwan, Kwun, Bong, Tan, Fook, Gwat and Bil Sau, in combination with the use of inside / outside door 'running hands', performed in the course of gor sau (free sparring) by students of Sifu NG Chun-hong at his Wing Chun school in Mong Kok, Hong Kong. Other than these techniques, you can also witness the actual use of Po Pei, double Jut Sau, neck pull, locks, Man Sau, Kup & Pei Jarn and various leg attacks in the course of gor sau between two willing and abled opponents. Participants in the footage are, in order of appearance, Pong, Alan, Fai, Kam and Kwan.
¡@
¡@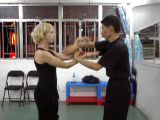 Above: In March 2002, having seen this website, Iselin and Maria from Norway enrolled for a three months course for overseas students. With no past experience in Wing Chun, Iselin and Maria worked hard and built up a firm foundation at the end of their three months stay.
1.8 MB / 41 sec.
(May 2002)
¡@